We are in the process of updating back end services on our websites. Please be patient during this time.
If any data is needed immediately, please contact web.master@coaps.fsu.edu.
Jeremy Rolph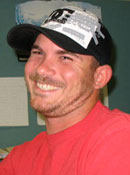 Assistant in Research
Center for Ocean-Atmospheric Prediction Studies
Rm. 247
(850) 644-6532 phone
(850) 644-4841 fax
This email address is being protected from spambots. You need JavaScript enabled to view it.
I was born 27 September 1978 in Barberton, Ohio. When I was just 9 months old, my family moved to Venice, Florida in 1979 where I was raised. Being raised on the Gulf Coast of Florida influenced me to love all things aquatic. It instilled a love of the beach, surfing, snorkeling, swimming, boating, and fishing. Given the typical sea breeze storms and frequent tropical threats during the summer in Florida, meteorology also became a part of my life, unknowingly. This ultimately led me to pursue a career as a meteorologist, particularly dealing with ocean weather.
I am the oldest of five, with twin brothers, one of whom served in Afghanistan and twice in Iraq, and a half-sister and half-brother.
I have been employed at the Center for Ocean-Atmospheric Prediction Studies since May 2003, just days after graduating from Florida State University with a degree in Meteorology.