We are in the process of updating back end services on our websites. Please be patient during this time.
If any data is needed immediately, please contact web.master@coaps.fsu.edu.
Yangxing Zheng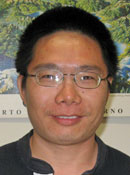 Assistant Research Scientist
Center for Ocean-Atmospheric Prediction Studies
Rm. 294
(850) 644-1159 phone
This email address is being protected from spambots. You need JavaScript enabled to view it.
My primary research interest is to understand the physical climate system including atmospheric, oceanic, and land-surface processes using observational data sets and modeling. I am particularly interested in studying the roles of the ocean in weather and climate. At present I am working with Dr. Bourassa to advance our understanding of Asian monsoons mechanisms and its impacts.