We are in the process of updating back end services on our websites. Please be patient during this time.
If any data is needed immediately, please contact web.master@coaps.fsu.edu.
Jenny Hu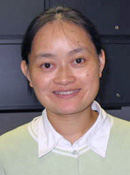 Computer Research Specialist
Rm. 220c
(850) 645-8479 phone
(850) 644-4841 fax
This email address is being protected from spambots. You need JavaScript enabled to view it.
I received my B.S. and M.S. in China, both in Computer Science. Then, I was an instructor in Computer Science Department, Shantou University from 1998 to 2001. I got my Ph.D in Computer Science from Florida State University In May, 2007.
I joined the Center for Ocean-Atmospheric Prediction Studies as a Senior Computer Program Analyst in May, 2005. My duties include:
Design and implement graphical programs to model and visualize climate data
Manipulate large dataset for meteorological and oceanographic research
Implement automated FTP data transfer and data processing programs
Train graduate and undergraduate students in programming