Agriculture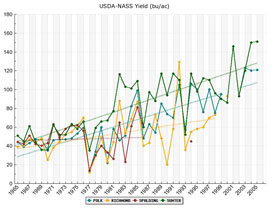 Scientists at the Center for Ocean-Atmospheric Prediction Studies (COAPS) have created AgroClimate, an interactive website with climate, agriculture, and forestry information, to help farmers better manage their crops for maximum outcome. AgroClimate uses crop simulation models along with historic and forecast climate data so farmers can compare probable outcomes under different climate conditions.
Climate variability plays an important role in the production risks faced by producers. AgroClimate tools are aimed at providing farmers with opportunities for pro-active adaptations to seasonal climate forecasts. Tools provide information for specific counties and regional overviews.
COAPS also offers weather and crop reports for farmers in Florida, Georgia, and Alabama through the Florida Climate Center
Contact David Zierden for more information.