We are in the process of updating back end services on our websites. Please be patient during this time.
If any data is needed immediately, please contact web.master@coaps.fsu.edu.
Akhilesh Mishra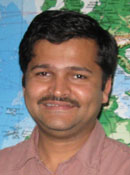 Associate in Research
Center for Ocean-Atmospheric Prediction Studies
Rm. 252
(850) 645-0665 phone
(850) 644-4841 fax
This email address is being protected from spambots. You need JavaScript enabled to view it.
My research interests include numerical modeling of weather and climate, ocean modeling, season predictability and climate variability. Currently, I am working with Dr. Vasu Misra on regional coupled modeling and season monsoon predictability using RSM-ROMS. I have also worked with Dr. Chassignet on global ocean climate simulations using the HYbrid Coordinate Ocean Model (HYCOM), to study the water mass properties, large-scale ocean circulations, and physical and dynamical processes of sea-water.
I have had past working experience in short to medium range forecasting and seasonal climate prediction modeling with particular emphasis on the Indian Monsoon. During those projects, I enjoyed working with the FSU Global Spectral Model (GSM) and A-OGCM. We extensively used satellite and gauge based precipitation observation/analysis to improve multimodel forecasts of weather and climate.