We are in the process of updating back end services on our websites. Please be patient during this time.
If any data is needed immediately, please contact web.master@coaps.fsu.edu.
Climate Studies
COAPS researchers conduct climate research through the following partnerships. Please click on the links for more information:
Florida Climate Institute (FCI)
See also the FCI at Florida State University website
Florida Climate Center (Office of the State Climatologist)
Including AgroClimate
Climate Change in Southeastern National Parks
A partnership with the Southeast Archeological Center
---
Climate vs. Weather
In general, climate is defined by the long-term (monthly or longer) pattern of weather conditions in a given region. Climate is not the same as weather, as weather deals with short-term variations tied to them movement and development of individual weather systems (fronts, cyclones, air masses). The earth's climate is now recognized as a dynamic system, with regional variations on many different time scales from seasonal, to year-to-year, up to decades and even longer.
---
Climate Variability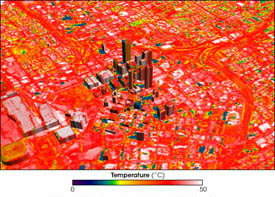 An example of our climate variability studies is a look at variations in daily maximum and minimum temperatures across the United States. This study examines the trends in temperature at both automated national weather service sites and cooperative observing stations.
Additional climate variability activities at COAPS include: (1) dynamical forecasting/hindcasting of Northern Hemisphere tropical Atlantic basin hurricane activity; (2) examination of crop yields as determined by a dynamical downscaled atmospheric model; and (3) comparison between statistically downscaled climate data and data generated by dynamical models.
The key scientific questions regarding seasonal hurricane prediction we hope to answer are: (1) can a high resolution dynamical model provide useful forecast for overall seasonal hurricane activity and how do these forecast compare with other forecasts including statistically based methods? and (2) how sensitive is the tropical cyclogenesis to cumulus parameterization and surface flux parameterizations.
To help answer these questions, we are presently using the FSU/COAPS climate global atmospheric model (T126L27) and the FSU/COAPS atmospheric model coupled to the newly developed Max Planck global ocean model with orthogonal curvilinear coordinates. One advantage of using this ocean model is that it allows us to rotate the poles and place them over Africa and North America, thus allowing us to have very high spatial resolution in the Atlantic basin.
Seasonal climate and climate variability has been shown to be a significant factor in yield variability in agricultural crops. Shifts in seasonal climate due to ENSO phase in the Southeastern U.S. significantly influence maize, wheat, cotton, tomato, rice and hay production. We are exploring the use of the FSU/COAPS global and regional models in hindcasting/forecasting crop yields over the Southeastern U.S.
Finally, the studies above are all conducted using dynamical models (both global and regional). We are currently working on comparison studies using statistical downscaling techniques compared against dynamical methods. The advantage of statistical methods is that they are relatively inexpensive computationally and can be performed at any spatial resolution. Seasonal characteristics and higher moment statistics are some of the comparisons being conducted.
Contact Tim LaRow at This email address is being protected from spambots. You need JavaScript enabled to view it." ' + path + '\'' + prefix + ':' + addy89301 + '\'>'+addy_text89301+'<\/a>'; //--> or Jim O'Brien at This email address is being protected from spambots. You need JavaScript enabled to view it." ' + path + '\'' + prefix + ':' + addy88781 + '\'>'+addy_text88781+'<\/a>'; //--> for more information.
---
Oceanic Climate Modeling
COAPS is presently working with the National Center for Atmospheric Research (NCAR) in building a new version of the Community Climate System model (CCSM) with the HYbrid Coordinate Ocean Model (HYCOM) as the oceanic model. With the CCSM being one of the flagship model in the climate research community, it is of great interest to investigate how the CCSM performs with an oceanic model that uses hybrid vertical coordinates instead of the conventional depth vertical coordinate. Comparisons will be performed between the new CCSM/HYCOM and the standard (CCSM/POP) version. After the validation of the new coupled model, decadal to centennial time scale experiments will be conducted to study both and climate change (decades to centuries) and climate variability (seasonal to inter-annual). These experiments will include Intergovernmental Panel on Climate Change (IPCC) integrations as well as investigation of the response and feedback of the ocean to external climate forcing.
Contact Tim LaRow at This email address is being protected from spambots. You need JavaScript enabled to view it." ' + path + '\'' + prefix + ':' + addy47662 + '\'>'+addy_text47662+'<\/a>'; //--> or Jim O'Brien at This email address is being protected from spambots. You need JavaScript enabled to view it." ' + path + '\'' + prefix + ':' + addy57105 + '\'>'+addy_text57105+'<\/a>'; //--> for more information.