Jobs
Overview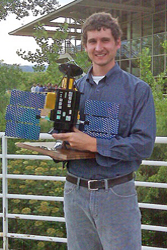 COAPS scientists and students come from a wide range of disciplines, including meteorology, physical oceanography, mathematics, economics, and the computer and information sciences. Interdisciplinary collaboration is highly encouraged and internal communication is strengthened through monthly seminars and meetings. Researchers are supported by highly professional administrative and technical staff, and have access to the FSU High Performance Computing system, an extensive collection of library materials at both the COAPS and FSU libraries, and on-site editing services.
Employees of COAPS also have the opportunity to network outside of the institution through COAPS's participation in the following organizations:
Many of the research faculties in COAPS were hired first as post-doctoral candidates.
COAPS is located in Innovation Park, a research and development centre managed by Leon County. Our office is 2 miles south of the main FSU campus, with free and ample parking and a regular van shuttle to the main campus. The Seminole Golf Course, the Morcom Aquatics Center, and exercise paths are all within walking distance.
Tallahassee is home to the state capital, two major universities and an array of cultural and natural attractions. It has been ranked one of the "Top Ten College Towns for Grownups" (Kiplinger's, 2007) and its park system was rated the "Best in America" (National Recreation and Park Association, 2006).
With a population of approximately 172,000, the cost of living in Tallahassee is relatively low and many commute times are only 15-30 minutes. The driving time to a number of beautiful Gulf Coast beaches is 1-2 hours; to the city of Jacksonville is 2 1/2 hours; and to the cities of Atlanta and Orlando is 4 hours.
---
Scientist Positions
No openings at this time.
---
Student Positions
Student opportunities at COAPS include graduate assistantships, OPS employment, fellowships, internships, and Federal work-study. Details about current openings are posted here as they become available. For more information on academics at COAPS, please visit the Academics section of our website.
No student opportunities at this time.
---
Other Opportunities
COAPS periodically has technical and administrative staff openings that are posted on this webpage. Please also check the FSU Employment and Recruitment Services website.
No openings at this time.
The Florida State University is an equal employment opportunity employer and educational provider committed to a policy of non-discrimination for any member of the University's community on the basis of race, creed, color, sex, religion, national origin, age, disability, veterans' or marital status, sexual orientation, gender identity, gender expression, or any other protected group status. An Equal Opportunity/Access/Affirmative Action Employer.