We are in the process of updating back end services on our websites. Please be patient during this time.
If any data is needed immediately, please contact web.master@coaps.fsu.edu.
Luis Zamudio-Lopez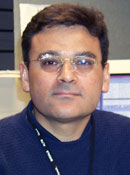 Assistant Research Scientist/NRL
Center for Ocean-Atmospheric Prediction Studies
Naval Research Lab, Code 7323,
Stennis Space Center, MS 39529-5004
(228) 688-5733&n;phone
This email address is being protected from spambots. You need JavaScript enabled to view it.
My current research projects include: Upper ocean response to hurricanes, Generation and propagation of coastally trapped waves, Generation of eddies by wind and by coastally trapped waves, Nesting of regional models inside of global and basin scale models.