We are in the process of updating back end services on our websites. Please be patient during this time.
If any data is needed immediately, please contact web.master@coaps.fsu.edu.
Lydia Stefanova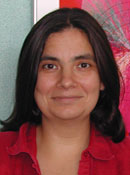 Associate Research Scientist
Center for Ocean-Atmospheric Prediction Studies
Rm. 297
(850) 644-6951 phone
(850) 644-4841 fax
This email address is being protected from spambots. You need JavaScript enabled to view it.
I am interested in the assessment and modeling of global and regional climate variability, and the interactions between climate variability and hydrology, ecology and society.
My professional interests and expertise are in the following areas:
Climate analysis, forecasting, projections;
Numerical and statistical modeling;
Climate downscaling and bias correction;
Large-scale climate variability;
Tailoring of climate information to ecology, hydrology, agriculture, health, and other natural and human systems.
Some of my favorite recent research projects include: