Lydia Stefanova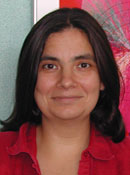 Associate Research Scientist
Center for Ocean-Atmospheric Prediction Studies
Rm. 297
(850) 644-6951 phone
(850) 644-4841 fax
This email address is being protected from spambots. You need JavaScript enabled to view it.
I am interested in the assessment and modeling of global and regional climate variability, and the interactions between climate variability and hydrology, ecology and society.
I am currently working on the following research topics:
Regional downscaling of climate models for the Southeast United States (see http://floridaclimateinstitute.org/resources/data-sets/regional-downscaling);
Atlantic hurricane activity and low-frequency large-scale climate variability in changing climate;
Climate change effects in coastal inundation decision support systems;
Observed and modeled temperature and precipitation extremes in the Southeast United States: quantification, variability, and applications;
Utility of detailed climate information for agricultural modeling.
I am also involved with the Southeastern Climate Consortium (SECC) and the Florida Climate Institute (FCI).