Outreach Projects
2009 Young Scholars
Three high school students taking part in The Florida State University's Young Scholars Program (YSP) worked with scientists at the Center for Ocean-Atmospheric Prediction Studies (COAPS) on a research project for the Northern Gulf Institute (NGI). YSP is a six-week residential science and math program for Florida high school juniors and seniors with significant potential for careers in the sciences, engineering, and health professions (http://bio.fsu.edu/ysp/).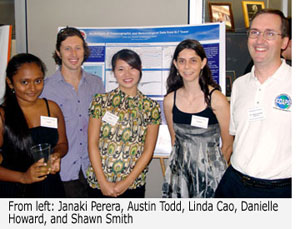 The three YSP students - Yilin "Linda" Cao, Danielle Howard, and Janaki Perera - spent two days a week at COAPS, working with Shawn Smith, Steve Morey, Austin Todd, and Jacob Rettig to analyze meteorological and oceanographic data collected at NGI tower N7 (K-tower) in the northern Gulf of Mexico. The students identified differences between the meteorological sensors that could be attributed to the exposure of the instruments and blockage of the airflow around the tower from specific wind directions. Using the best-exposed instruments, Janaki searched for evidence of a nocturnal increase in easterly winds over Apalachee Bay, a feature that has been observed by recreational fishermen in the region. Her preliminary results showed evidence of these nocturnal easterlies during the spring months. Danielle and Linda collaborated to associate variations in the vertical structure of ocean water temperature and salinity at N7 with occurrences of strong winds. In addition, the students identified an occurrence of increased fresh water in the upper ocean at N7 that may be associated with the propagation of flood water from the Suwannee River in late April 2009. The students presented their research findings at the YSP poster session held on 22 July 2009 at Florida State's King Life Sciences Building.
Please click the thumbnail below to view the full-size poster in a PDF format.